By Greta Suiter, Manuscripts Archivist, Ohio University Libraries

The slim publication "Poetry from the Heart" by Jack W. Wamsley is located in the William D. Herron collection on Ohio University alumni and staff (MSS48) – a unique set of materials collected by Herron, documenting his fellow Ohio University alumni and the city of Athens.
This volume of poetry wasn't collected by Herron though, but rather his nephew, Robert Bigley who is also an OHIO graduate. It was Bigley that donated much of the Herron collection and the last donation was sent to the Mahn Center by his wife, Lois Bigley in 2017 after Robert passed in 2016. Robert and Wamsley both attended OHIO in the early 1950s and Robert held on to the poetry booklet for 50 years. In 1966, Wamsley died in Eustis, Florida at the age of 32. Surviving him was his wife Shirley and his daughter Cynthia Louise.
The poetry Wamsley wrote is endearing and sometimes quite funny. Some poems feature animals, such as "I Love Snakes," others are about his daughter and how quickly she is growing, and others are about life in general and the brevity of it. There is a biography in the booklet which states, "The author of this small booklet compounds a variety of experiences and emotions, having penned his first poem at the early age of twelve. Believing that poetry is the 'music of the heart,' it is to the inspiration of beauty and truth that this volume is dedicated."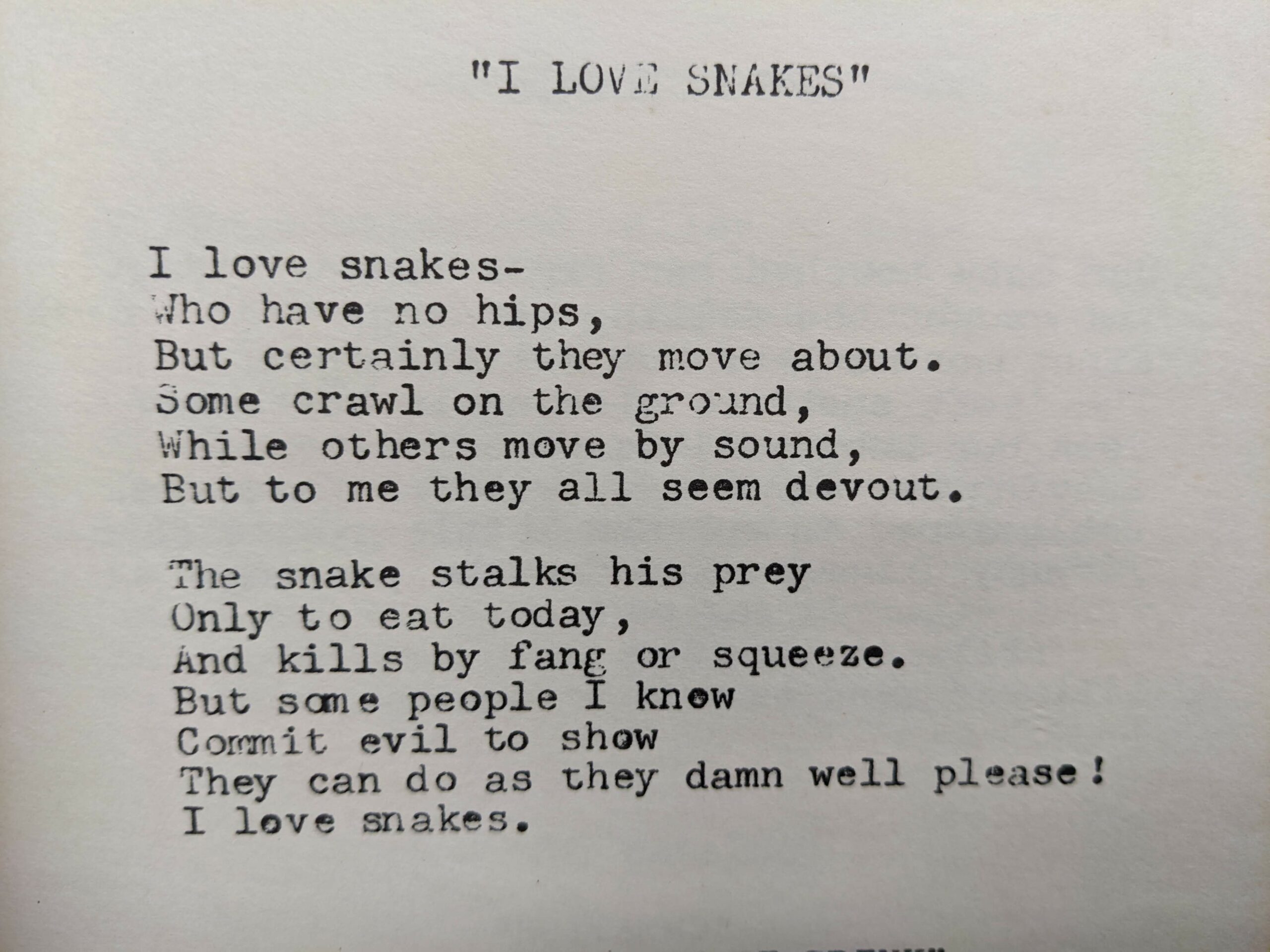 "I Love Snakes"
I love snakes-
Who have no hips,
But certainly they move about.
Some crawl on the ground,
While others move by sound,
But to me they all seem devout.
The snake stalks his prey
Only to eat today,
And kills by fang or squeeze.
But some people I know
Commit evil to show
They can do as they damn well please!
I love snakes.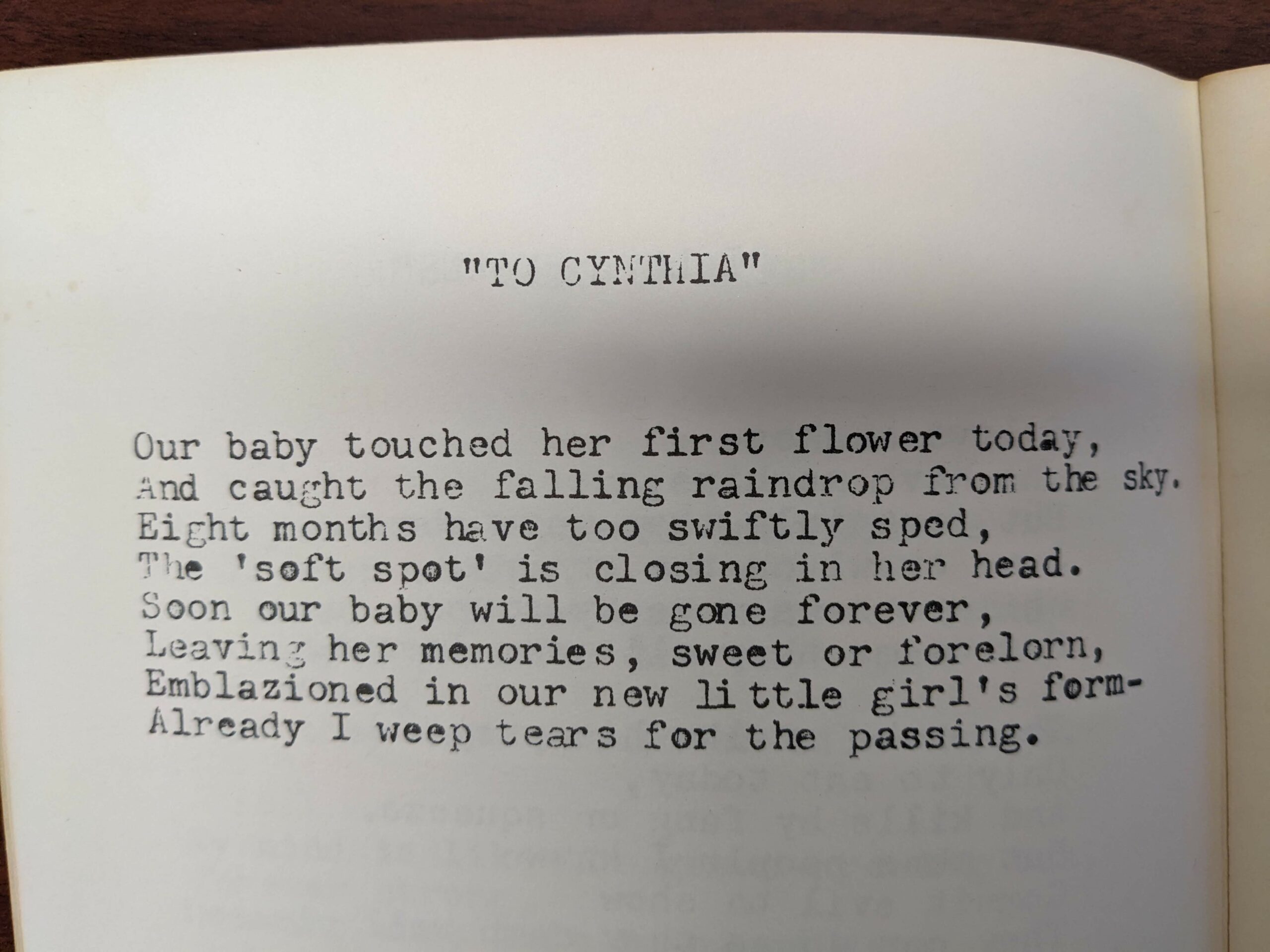 "To Cynthia"
Our baby touched her first flower today,
And caught the falling raindrop from the sky.
Eight months have too swiftly sped,
The 'soft spot' is closing in her head.
Soon our baby will be gone forever,
Leaving her memories, sweet or forelorn,
Emblazoned in our new little girl's form-
Already I weep tears for the passing.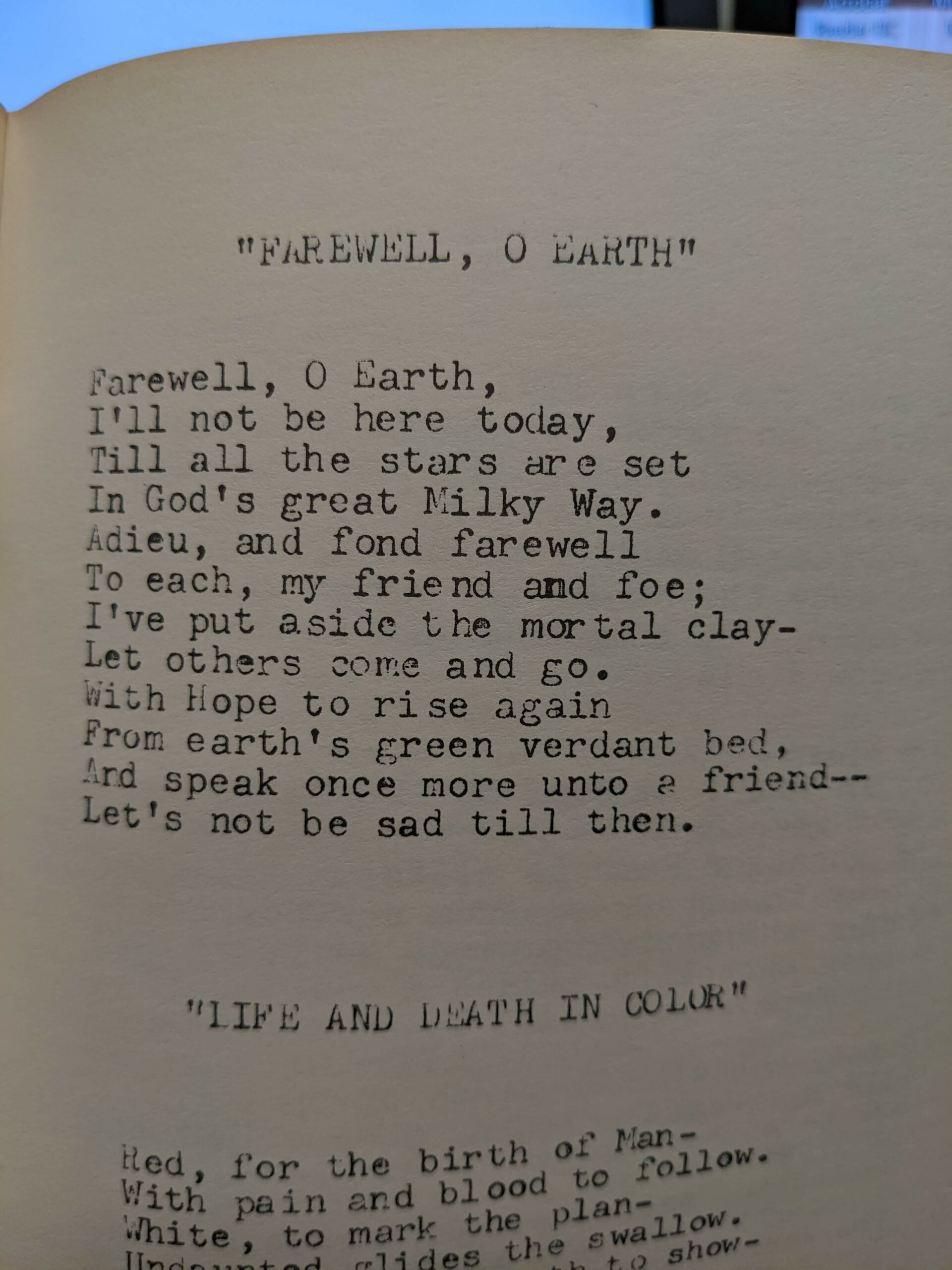 "Farewell, O Earth"
Farewell, O Earth,
I'll not be here today,
Till all the stars are set
In God's great Milky Way.
Adieu, and fond farewell
To each, my friend and foe;
I've put aside the mortal clay –
Let others come and go.
With Hope to rise again
From earth's green verdant bed,
And speak once more unto a friend—
Let's not be sad till then.