By Erin Wilson, Digital Imaging Specialist & Lab Manager, Ohio University Libraries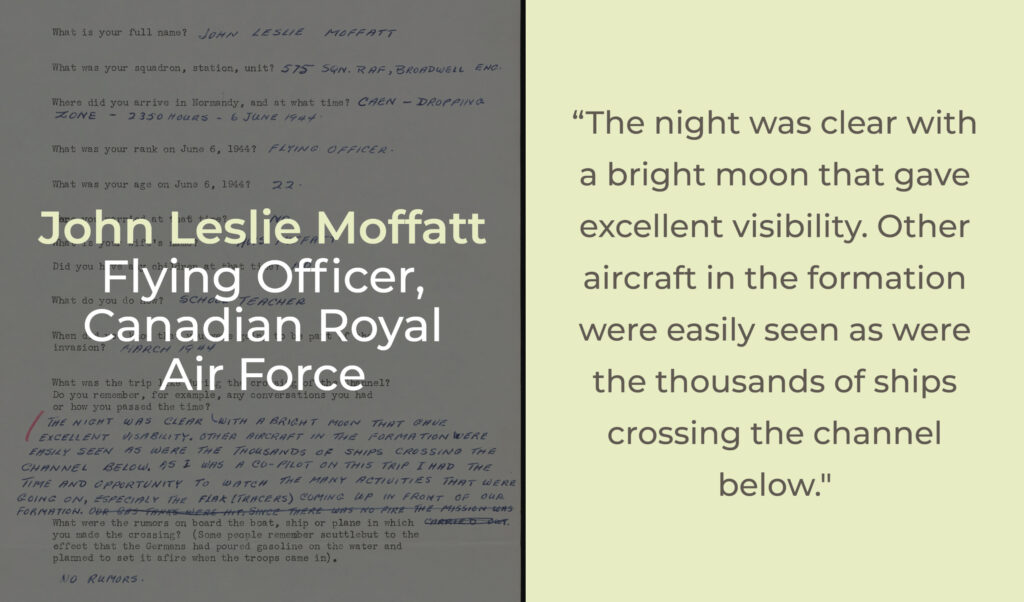 Quote from questionnaire submitted by John Leslie Moffatt
Working in partnership with the Canadian Research and Mapping Association (CRMA), the OHIO Libraries Mahn Center for Archives and Special Collections is actively seeking public volunteers to engage with unique, historical documents that illuminate the personal experiences of World War II veterans. Participants are invited to contribute to the CRMA-OHIO WWII Transcription Project which features accounts from those who participated in the D-Day invasion at Normandy, France on June 6, 1944.
The accounts are sourced from OHIO Libraries' Cornelius Ryan Collection of World War II Papers. They consist of questionnaires, interviews and correspondence which served as the basis for Ryan's research material while writing his book, The Longest Day. A former war correspondent, Ryan and his research team solicited responses from veterans through ads placed in Readers Digest during the 1950s. Their questions were intended to prompt memories and intimate observations that tell the story of D-Day through the words of those who survived it. More than 150 interviews and 900 questionnaires from American, British, Canadian, and German forces, as well as French civilians, were submitted. The accounts were used by Ryan to corroborate details of the historic battle and give voice to the individuals directly involved.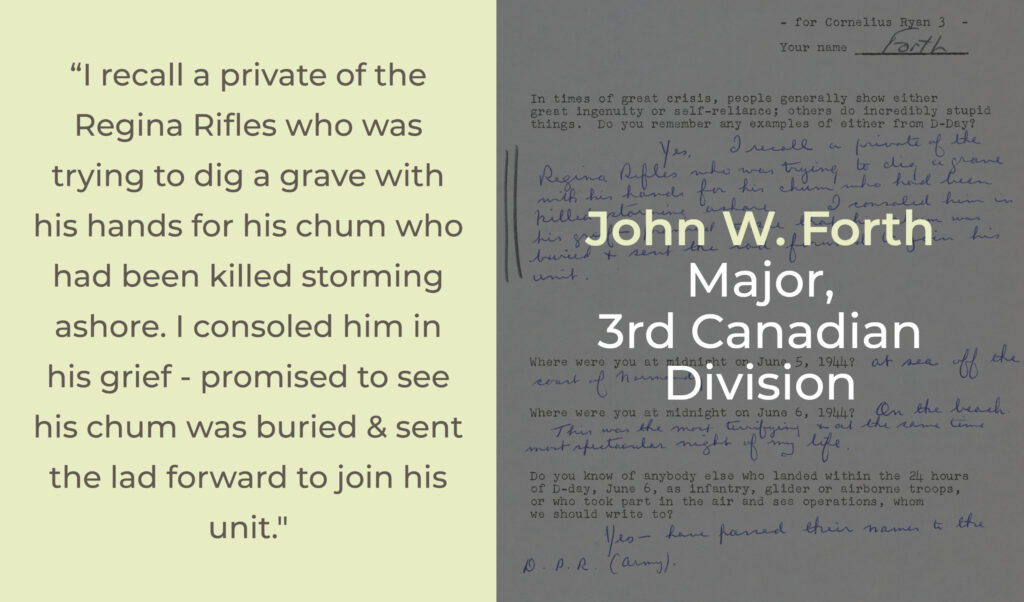 Quote from questionnaire submitted by John W. Forth
The archival documents produced as a result of Ryan's extensive information-gathering are among the Mahn Center's most requested manuscript collections. The Libraries' Digital Initiatives unit provides digitization services for researchers across the world with an interest in the Cornelius Ryan Collection. Digitized materials are made available through an online collection which currently hosts more than 500 accounts from The Longest Day series.
In 2021, the Libraries partnered with the Canadian Research and Mapping Association (CRMA) to further enhance the use and discoverability of these primary source documents through crowdsourced transcription. Transcription is a vital component of digital projects that reuse textual data, such as the CRMA's Project '44, an interactive web map that allows users to explore WWII through digitally preserved maps, aerial imagery and war diaries. To support this effort, the CRMA recruited volunteers to transcribe the full extent (more than 1,000 pages) of accounts from Canadian military personnel, many of which are handwritten. Thanks to their collective contributions, the digitized documents are now available in an accessible and search-friendly format.
The CRMA-OHIO WWII Transcription Project has since expanded to include accounts from American and British respondents, with plans for continued growth and wider representation of nationalities found throughout the collection.
OHIO Libraries and CRMA are seeking volunteers to help transcribe the incredible first-hand accounts of those who participated in D-Day. Collaborators are invited to create a free account and access the project home page to start transcribing. Newcomers are encouraged to watch a brief video tutorial which introduces the transcription process. The project utilizes FromThePage, a user-friendly transcription interface that supports communication between participants and project coordinators using a Notes field at the bottom of every transcribed page.
To commemorate D-Day, the Ohio Libraries is hosting a special panel with library staff, transcribers, and the CRMA executive director. The panel will be held on June 1st, 2022 at 3pm over Microsoft Teams. More information about the panel is available on the University events website.
If you have additional questions or would like to share your experience working on the project, we'd love to hear from you! Please contact Erin Wilson at wilsone5@ohio.edu.